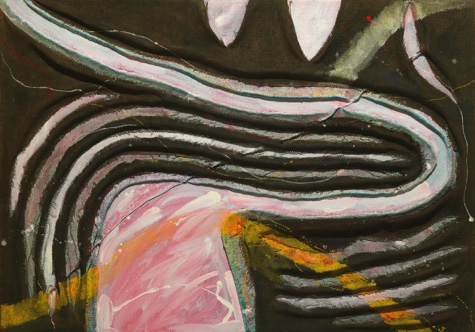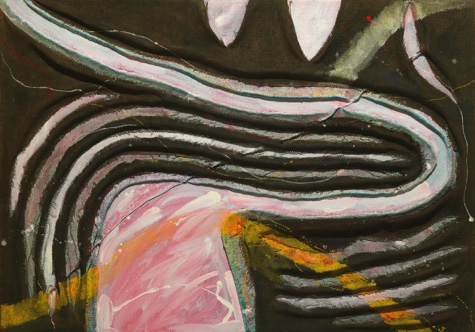 Estimate
TWD 1,600,000-2,400,000
HKD 405,000-608,000
USD 51,700-77,600
CNY 370,000-556,000
---
Signature
Signed reverse Tsuyoshi Maekawa in Kanji and English and dated '86'91
PROVENANCE:
Whitestone Gallery, Hong Kong
Private collection, Taiwan
+ OVERVIEW
"The transformation of materials from their most primitive states is a process that requires destruction before re-creation, and this also illustrates the freedom and originality of art." -Tsuyoshi Maekawa

Japanese Gutai master Tsuyoshi Maekawa was born in Osaka in 1936. Between 1962 and 1972, he participated in the Japanese Gutai art movement after World War II and has since become an important representative figure. Maekawa's artistic aesthetics contains the beauty of life and energy. The majestic force in his style vitalizes viewers like a clear spring that heals inner peace from external disturbances. He used a variety of fabrics and paints to explore the reality inside and outside the painting space. Through the creator's vision and skillful hands, different images of mountains, glaciers, deserts, and oceans are realized one by one.

In 1954, Gutai founder Jiro Yoshihara defined the highest principle of Gutai to be "creating unprecedented art." It encouraged young artist groups in Japan to recover from the post-war defeat and build a new future for Japanese contemporary art by making revolutionary breakthroughs, boldly applying different forms and techniques, as well as challenging existing impressions and rules. Gutai members played active roles in world art trends and used the convenience of information from communications technology to connect with European and American art communities beyond national borders. East Asian contemporary art began its new chapter, and Tsuyoshi Maekawa is a successful artist for several decades under this rapidly changing era, in his march forward along the journey of creation.

In addition to his early exposure to Japanese pottery, Maekawa has always used "burlap" as a creative material because he is moved by ancient totems. As Maekawa explained, "I have always persisted in the media's materiality, but it is not about making a bold presentation without any modifications. The aim is to highlight the tension and create a line density that corresponds to surface colors through textiles like burlaps and cotton cloths. The transformation of materials from their most primitive states is a process that requires destruction before re-creation, and this also illustrates the freedom and originality of art."

You can't make an omelette without breaking eggs. Maekawa did not always succeed in finding his own path. He had also experimented with other materials such as wood, iron, and cement. However, the combination of intertwining fabric fibers and the logical, perpendicular composition with colors and art produced an unknown possibility. The artist experimentally mixed and created a free and open universe of brilliant colors by allowing paint to drip on, expand, fill up, overlay, and infiltrate the fabric. It takes viewers on a journey to see like a flying eagle, overlooking mountains and rivers from the clouds and remembering the grand and open views in their hearts. The period between the 1950s and 1972 marked Maekawa's first phase of Gutai movement participation, during which he explored and focused on using natural colors and juxtaposing layers of fabrics and paints. The second phase was from 1970 to the 1980s, when he replaced firm burlap materials with soft, light-weight cotton cloths, and derived a style of expression with many geometric shapes from precise sewing techniques. In recent years, Maekawa implemented different patterns of regular ripples by using flexible techniques.

With modern shifts in the development of world art history, influential art museums now perceive the arts of Gutai members as non-negligible, important targets of collection in the history of art. Among these Gutai members, Maekawa was at the peak of his career during the 1980s. He was invited to many exhibitions and he received awards and academic recognition for several years in succession. Some examples include the Tokyo Metropolitan Art Museum Prize at the 15th Contemporary Art Exhibition of Japan in 1981, and the National Museum Prize of the Japanese Emblem Art Award in 1982. In 1985 and 1986, Maekawa held nearly 20 exhibitions of varying scales. Currently, Maekawa's artworks are collected by several world-class museums, including the Tate Museum in London, the National Museum of Modern Art in Kyoto, the Museum of Contemporary Art in Tokyo, M+ Pavilion in Hong Kong, and the Long Museum in Shanghai.

Created in 1986, the auction item 86Y09 (Untitled) is a masterpiece that took the artist six years to complete. It was originally an important private collection in Asia, and it is now presented at this autumn auction for the first time. The bold, explicit black fabric grains look like clay piled up on the canvas plane. When viewers stare at 86Y09 (Untitled), their sight inadvertently follows the winding patterns as they comb through their inner distractions and focus on imagining the image. They can almost visualize a rising sun with a glittering pink river about to wake up. The black fabric looks like the abundant black earth washed up by the river, while a shade of canary yellow V-shape crosses the sky like a crowd of wild geese, flying freely under the mild breeze and gold morning twilight. The artwork breaks through the barriers of traditional painting and sculpture, and upgrades a 2D plane to a 3D space. The creator viewed spatial concept as a kind of utopia and used non-traditional art media to create this piece of artwork. The process of creation left behind a path that calls for a whole new and unpredictable infinitude. This is also an inseparable element for the integrity of Maekawa's style of aesthetics.
Select: Modern & Contemporary Art
Ravenel Autumn Auction 2019
Sunday, December 1, 2019, 12:00am