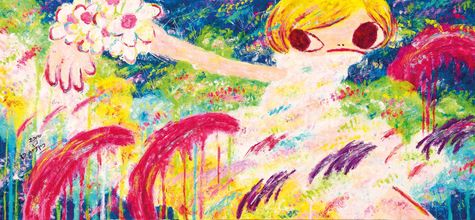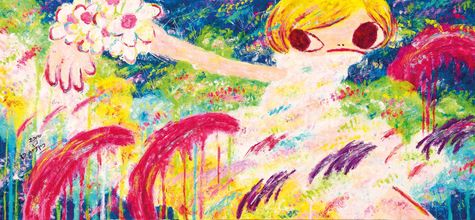 Estimate
TWD 1,700,000-2,600,000
HKD 437,000-668,000
USD 56,400-86,300
CNY 401,000-613,000
Sold Price
TWD 7,200,000
HKD 1,889,764
USD 243,572
CNY 1,706,161
---
Signature
Signed lower left Rokkaku Ayoko in Japenese and dated 2014


PROVENANCE:
Gallery Delaive, Amsterdam
Private collection, Europe
+ OVERVIEW
AYAKO ROKKAKU: A HAND-PAINTED WORLD OF DREAMS
"The hand directs where the fingers point. They are more powerful than words."An artis appeciated by Takashi Murakami, Ayako Rokkaku was born in January 24, 1982, in Chiba Prefecture, Japan. Chiba Prefecture, which is close to Tokyo, is the home of the airport of the capital of Japan, Narita International Airport, and the children's paradise, Disneyland. Rokkaku's background is similar to that of the prefecture in that this world seems to have foretold her future of soaring through the skies and traveling among the cities of the world and a dreamland for girls she is an expert at portraying.

UNIQUE PAINTING CHARACTERISTICS AND STYLE

The major themes throughout her painting history are girls and children, and she often portrays them in close-ups. The figures in her painting are often unsmiling. Their eyes may be opened wide and their lips pressed together, or they may look angry. She said her figures went from two sets of extremes: "escaping and chasing" or "looking away and staring." Most of the main figures in her paintings are walking in large strides. Other common elements in her paintings are repetitive random sketches and animals. Having elongated arms or overly large eyes, bright colors or simplified details, they are all influenced by Japanese animation culture. She never received formal education of fine art, her painting skill is self-study, and reflected on her inherently sensitive observation and delicate emotions. Her hands dipped in acrylic, with the spirit value of graffiti, Ayako Rokkaku used improvised graffiti to make interesting experiments on colors and forms that created her hand- painted world of dreams.
Modern & Contemporary Asian Art
Ravenel Spring Auction 2020 Taipei
Sunday, July 19, 2020, 12:00am